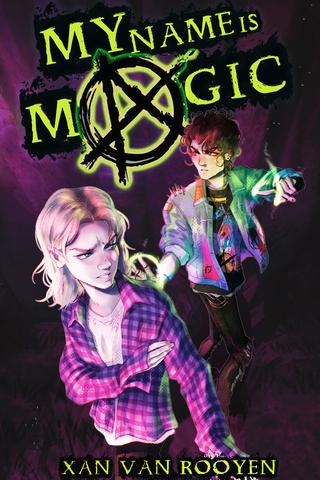 My Name is Magic by Xan van Rooyen
Taika Turunen has no magic. Despite coming from a long line of powerful Finnish mages, and their name literally meaning magic, Taika can't perform the simplest of spells. Forced to attend Myrskyjärvi International School for the Magically Gifted on account of their mom being principal, Taika has a hard time fitting in. Sometimes, they wonder if not having magic has something to do with the fact they're neither a girl nor a boy and if they're fated to be Taika the Talentless forever. Life goes from bad to worse when Taika sees a liekkiö and recognizes the spirit's voice begging for help as that of their former BFF and major crush, Natalie Khumalo, whose recent absence from class hadn't gone unnoticed. When more students go missing, Taika must take the lead in a race against time to save friends old and new before a powerful group of chaos mages can unleash the legendary Sampo, an artifact capable of either renewing the world's waning magic or destroying everything Taika holds dear. To rescue Natalie, Taika will have to journey to the liminal space between worlds where they'll be forced to battle mythical monsters and their own flagging self-esteem. In doing so, Taika might just discover that magic—and love—comes in many different forms. For fans of witchcraft and wizardry looking for a new, inclusive story, My Name Is Magic, is a story about finding strength from within and potential where you least expected it.
Young Adult • Fantasy/Contemporary • Diversity Representation/LGBTQ+/Own Voices • Fantasy/Mythic, Retelling, and Folklore
Content Warning: CW: implied death of a child, children hurt by adults physically and magically without any graphic descriptions, implied injuring of animals without any graphic descriptions, misgendering addressed on page.