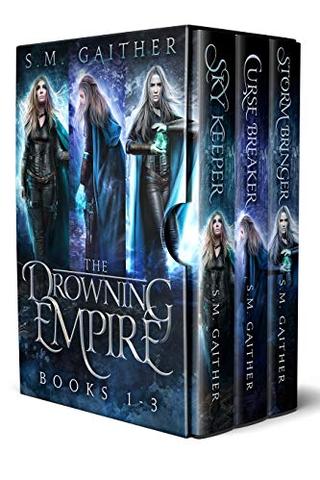 The Drowning Empire: The Complete Series by S.M. Gaither
This is the story of a girl who held up the sky. It begins with a break, a flood of rain and tears. And it ends with a crown that might cost her everything she loves. This boxed set contains all three books in The Drowning Empire trilogy--over 1200 pages of magic, action, and romance! One click today and prepare to get lost in this epic fantasy retelling of the Atlantis myth!  Book One, Sky Keeper
 Welcome to the World Below, where the keepers command the sky, but the commander of the keepers controls the empire...

For centuries, the four kingdoms of the Caspian empire have remained safe and hidden below the ocean, protected from the Surface World—and from that ocean that separates them—by a great barrier maintained by magic. 

Aven Talavir has spent her entire life learning to be a keeper of that barrier, channeling her powers into maintaining and healing it.

But now an impossibly sinister force seeks to shatter it.

To stop the looming flood of destruction, Aven picks up her knives and sets off on a quest to find an ancient power that may be able to permanently heal the makeshift sky. Reaching it will mean fighting her way through dangerous politics and deadly magic, all while finding love and friendship in unexpected places—

Only to realize that the greatest treachery may not lie in the breaking sky, but in the very hearts of the people around her. Book Two, Curse Breaker In the underwater empire of Caspia, a storm is brewing.

Aven Talavir's efforts to unite the four kingdoms resulted in a temporary peace, but that peace is shattered all over again when she is named the controversial heir to a dying emperor's throne. 

The crown on her head makes her a target. One that Kai 'West' Armana would do anything to remove. One that results in an attack, and a curse on the newly crowned empress that will require an unimaginable sacrifice to undo. And that sacrifice is only the beginning.

Because the world is not healed.

The sky is not safe.

And things that should be dead and drowned do not always stay that way. Book Three, Storm Bringer
 The Sky is Changed.

Once upon a time, Aven Talavir lived in a sparkling empire beneath the waves, protected from the Sea-Above by a sky made of magic.

Then it all fell apart.

The four kingdoms of the Caspian Empire are united no longer. Aven is an empress in name only, her kingdom overtaken by her rivals, her city flooded, and her hope fading as she sets out on a desperate journey to find allies, and to take back the power she needs to mount one final effort to save her world. 

That power exists.

She knows that now.

But the cost of wielding it may be more than she can pay.

The epic story that began in Sky Keeper concludes in this thrilling final book. Waters and armies will rise, kings and queens will fall, and the Empress of Sky will see her true reign begin…Or else watch everything she loves be swept away by a storming sea.